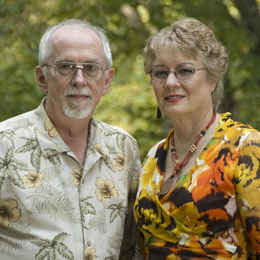 Deep Creek Arts is
Ellen & Charles Snodgrass
When we sold our Smoky Mountains bed and breakfast and formed Deep Creek Arts in 2002, we returned to marketing – the profession that had employed us for more than thirty years in Atlanta. Before becoming innkeepers, Ellen had been a publisher of professional journals and periodicals, and Charles had been the co-owner of Hunt-Snodgrass, Inc, a marketing communications firm.
Today, we operate Deep Creek Arts from a loft in our log home near the Whittier community in the mountains of Western North Carolina. Simply stated, we apply our creative skills to solving the marketing communications needs of small businesses. Those skills include —
Marketing communications analysis – A process of asking the right questions, listening well, and then recommending the most cost-effective way to communicate with a target audience.
Setting creative strategies — Finding the creative hook that will catch the attention of that target audience.
Copy writing — Choosing the right words. And the fewest words.
Photography — The next best thing to being there.
Graphic design — Applying fresh thinking, good taste, and sound judgment to the visual presentation of an idea.
Professional production — A command of the technologies required to produce top quality web sites and printed marketing materials.